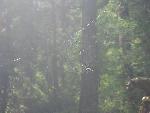 Beaver Lake
to
Grizzly Park
17 mi
::
1450 mi
::
Sunny, warm
It's wet, chilly morning. I linger in bed for a while because Ann is meeting me today, and I don't have too far to go.
After two more meadowy divide crossings I start following Strawberry Creek into the Bob Marshall Wilderness. It takes me quite a few miles to Bowl Creek, which I follow up. There are lots of gentle valleys that run roughly parallel to the divide in this country, and the trail spends a lot of time in them. I learn to appreciate the amazing spider webs in the woods. They're often 10 feet or more up, between trees even farther apart. Of course, many are right at face level too, and sometimes I get a spider in the face. They don't stick around through, they zip away almost as if they can fly. They must be incredible acrobats to spin such webs.
At Grizzly Park I bathe in the creek. The contrast between to cold water and hot sun is amazing.
Ann shows up, resupplies me, and we plan our next meeting at Benchmark in 2-1/2 days. We have a pretty campsite next to the creek, and a beautiful evening to spend together.