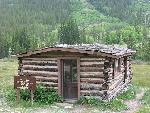 Cottonwood Road
to
Willis Gulch
25 mi
::
985 mi
::
48,750 steps
::
Hazy
Since I'm at the car, I make breakfast with cereal, coffee, bread, cream cheese, and hard boiled eggs before getting on the trail. I feel good when I get going.
I chat with a few climbers headed for Ice Mountain after I find my way across Texas Creek in a maze of motorcycle tracks. I feel so good I pass them up even though they have much smaller packs.
I start to poop out just before a tough looking climb to a pass, so I stop for lunch a little early. This rejuvenates me, and soon I'm staring down at Lake Ann, a fittingly beautiful emerald green lake spread out beneath the jagged peaks of the Three Apostles. There's a lot of haze in the sky and I think smell smoke sometimes. It makes me wonder if someone's started a wildfire nearby.
From here I head down into the Clear Creek watershed. I pass the foot of Huron Peak, a peak I climbed several years ago. For those of you who know the "that's meeeeeeeeean!" story, this peak is where it happened.
As I approach the road the swarms of vehicles return. They accompany me through the nicely restored mining town of Winfield and down Clear Creek to the Hope Pass trailhead, where I escape them.
Again I'm tired so I stop for a meal to stoke me up for the climb to Hope Pass.
This climb feels hard. It rises about 2500 feet in a little over 2 miles, which makes it one of the steeper climbs on the CDT I believe. I huff and puff for a long time, at last rewarded with more views the great Collegiate Peaks Wilderness. Over the other side I can see Twin Lakes, where I'm meeting Ann and my Dad tomorrow. It should be an easy day, so I stop at the first good campsite I find.