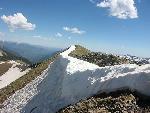 Weminuche Wilderness Boundary
to
Palomar Mountain
20 mi
::
727 mi
::
45,740 steps
::
Sunny, windy on ridges
I wake up early, curious to see if I can make 20 miles for the day and ensure I won't be late for my rendevous with Ann on Wednesday.
I stop for breakfast just before a snowfield traverse to give the snow time to soften. I think of Ann making her tea and toast, maybe frying an egg. It's hard to be apart, but I feel like I can almost share the comforts she's enjoying. My granola breakfast leaves me still hungry, so I eat the snickers bar I saved at dinner last night.
The snow lasts for only a few miles, and it's mostly drifts. My progress feels good so far.
These mountains are packed with elk. It seems like I spook a few around every other corner.
Once I reach Spotted and Archuleta lakes the trail climbs steeply to the divide ridge, where it stays on the south side for a long time. I feel so free on the dry trail that I start to go too fast. On a steep descent I feel my knee tweak, like it did back in New Mexico. At lunch I take some naproxen sodium for any swelling tendons, but I don't feel like digging the ACE bandage from the bottom of the pack.
At a sane pace the knee feels okay, so I continue along the ridge. There are lots of mountain wildflowers up here. I see some Forget-Me-Nots, my Dad's favorite. Today is Father's Day, I remember only because I've been in a Walmart this week. I had no such reminder for Mother's Day – sorry Mom. I hope both my parents will join me at some point this trip, and Ann's too.
On another descent my knee starts hurting badly, and I stop to dig out the ACE bandage after all. I have to finish the descent very slowly and carefully. Luckily it is followed by a long, grueling climb up South River Peak. Climbing is almost soothing to my knee. By the time I reach the top I'm able to descend more normally, though still favoring the hurt knee.
I have dinner at Piedra Pass, then get reminded that there is still snow on this trail as I hit a north slope back to the divide. In the end I make my 20 miles. Tomorrow will be more challenging, with most of the going on the north side. Some of it looks steep. I don't really need to make 20 again tomorrow, though, so I can slog slowly if need be.