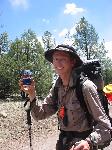 FS28
to
FS94
16 mi
::
233 mi
::
Sunny, hot, some clouds later
Once we get in gear, the road makes for easier walking. We cross the divide for the first time since leaving Silver City at Eckleberger Hill. In Turkey Park Canyon we a see a sign: FIRE IN PROGRESS. We pass other signs, but see no fire.
Ann admits to having some food fantasies. We don't usually like soda, but we keep seeing empty cans, especially of Pepsi. We agree that if someone handed us a cold Pepsi right now, we'd both drain it with relish. We discuss other important questions, like the origin of cream soda.
We skip a shortcut on Jonathan's map, both due to the fire and our tired feet. In the open pastures of Collins Park a Forest Service truck pulls up, and a girl asks if we need any water. We don't, but we ask about the fire. Just a low-intensity prescribed burn, they explain. The girl, Prarie, advises us to look up her mom, Nita (aka the Pie Lady) in Pie Town. The truck behind them passes us again later and another girl gives us Pecan Sandies out the window.
At the top of a long, hot hill another truck stops. This time an older guy in a roper cap extends a can of Pepsi out the window. "I just opened it and had a sip. You can have it if you want. It's cold." We can hardly believe it, but it's true. It's gone in seconds. Later the guy passes us again and invites us to his campsite for dinner. We think it over. About 5 pm we get there, and can't pass it up. Wayne, his son Darwin, and grandson Sako treat us to enchiladas, beans, salad, roasted marshmallows, good conversation, and even cream soda! Wayne is a constant stream of cowboy stories. I couldn't even start to write all the things we learn before hitting the sack!