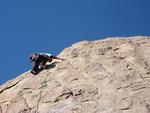 At first I'm disappointed that our group (Walter, Roy, Barry, Sean, Tom) decides not to go to Margaritaville, a place I haven't been. Instead they opt for the familiar, chossy Alabama Hills. But we end up having a near-perfect last day of climbing.
Ann starts off by taking the lead for the first time! In the Paul's Paradise area she leads both Sweet Pete and De Ham Bone. Despite the fact that they're definitely easier than the book's 5.7 rating, a common occurrance at Alabama Hills, we're both excited about her accomplishment.
I lead Paul's Paradise, 5.9+, next. Again it doesn't feel quite that hard, but is better than average Alabama quality. There are a couple of moves on it that puzzle Ann a bit, but she works them out.
Next is Ted Shred, 5.9, much easier than that. This is a finger crack enshrouded in rotten rock. Ann doesn't bother following me up, and I don't blame her.
Moving back to the Hillbilly Pillar, I lead Cornfed, 5.8. This is rated correctly and is excellent, the only drawback being that you have to consciously leave off big holds on a nearby arete to have it at its best.
I toprope Hillbilly, 5.11c. A very nice climb, with some thin, crimpy moves. I make it up without a slip, and wish I had tried to lead it. I declare it more like 5.10c. Walter and Barry think it's a bit harder than that.
We all drive to the Gunga Din, and I lead Kali Sacrifice and Kew, both 5.10a. Everyone but Ann and Tom have fun on these. This time the ratings seem good, and so do the routes. Throughout the day I notice that it's these scattered chunks of north-facing rock that seem to provide the quality routes at bama.
We finish the day with a beer from Walter, the only one properly prepared. I really didn't expect to climb as confidently as I did. It's almost like the time off has helped me relax, not just sapped my strength. It has been a very satisfying day.