I've stopped eating animal products this year. I've been mulling over what to say about it for some time, because while I'm excited about the change, I'm also apprehensive.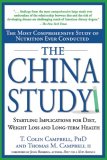 The exciting part is that I seem to have a natural affinity for this diet, and I think it's the single most effective action I can take to preserve my health and the outdoor environment I love. Nutritionally, The China Study by T. Colin Campbell has been my greatest influence. It's largely the story of a farm boy who, after becoming an influential nutritional scientist, drastically changed his views about the great American diet. It's packed full of insights about the role of nutrition in our government, industry, health care, and educational systems. If The Omnivore's Dilemma opened my eyes to my role in our food chain, this book revealed the forces that created that food chain.
My apprehension comes from the fact that even more than the outdoors and my health, I value the people in my life, and this decision will probably present a challenge to many of my relationships. Vegans are impossible for most people to feed or even go out to eat with. By rejecting a nearly universal value of our culture, we project a "holier-than-thou" fundamentalism that alienates us even further. If we try to share our enjoyment of our choice, we just sound like dietary evangelists sitting in judgement over our friends and loved ones.
I don't know what the social toll will be on my already reclusive lifestyle, but it feels like the right time for me to take this step to remain true to myself. I hope you'll believe I still love and respect you, and stick with me as I become an ever greater pain in the ass!