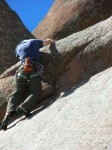 We figured it would be a cold, short day, perhaps the last of the season at Vedauwoo. We end up climbing under a hot sun, of course. We bring our friend Sean to the Fall Wall area to indroduce him to slab climbing on our favorites, Easy Friction 5.4, Easy Lieback 5.5, Cold Fingers 5.7, and Drop Zone 5.9. Ann does a mock trad lead of Easy Lieback in fine form, placing bomber gear the whole way.
I decide to face an old nemesis, Fall Wall 5.10a. In high school I tried it on toprope, making it up the steep slab only to fail completely on the roof move. To my humiliation I had to be hauled up it. Now I start resolutely up the exposed, unprotected opening moves to attempt to redress my prior failure, on lead this time. Again the slab goes pretty well, with one minor slip at a bolt. The move to reach the roof stymies me for a while, until I finally place a good cam beneath the overhang first. I'm feeling pretty good as I grip the crimpers above the lip, but I just can't quite get a foot on anything solid and I pop off suddenly for a nice 15 foot winger. I stick a little longer on the second try, but repeat the fall. Another climber offers a little beta, try it a bit to the right, and I go up for a last go. The beta works, my foot worms its way slowly onto the hold, I stand, and vanquish my old foe.
Thanks to Sean there are more photos.