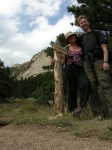 We were a little nervous about tackling the imposing multipitch climbs on Lumpy Ridge, but found one 5.7 route up "The Pear" that looked mellow enough. Our tactic of using vacation time to hit this popular area during the week worked perfectly – the Twin Owls trailhead was nearly empty. The building cloud cover posed some threat, but also offered a welcome relief from the heat.
When we reached the base of our route I couldn't help noticing three bolts on an enticing slab right next to it. They weren't in our guidebook, but I decided to give it a try anyway. Later I looked it up – Finger Trippin', 5.10a. It made an invigorating, satisfying direct start to our route. I'll repeat the name of that route for reference: Magical Chrom-Plated Semi-Automatic Enema Syringe.
Ann was a little tense on Finger Trippin', but she seemed to feel good when she reached the belay. Our second pitch, a nice 5.6 lieback, was marred only by some jammed gear. There was a walk off at this point, but we were both feeling good enough to try the remaining three pitches to the top. The weather had not changed at all, and the views were getting very nice and airy.
The third pitch is a fun, long 5.5 ramp, followed by a good 5.5 hand crack for pitch 4. When I reached the top of this pitch, the thunder and lightning began. As Ann followed it grew truly menacing. Our belay ledge continued west around a corner, and I decided we should see if it offered an exit. To our relief it did. As we traversed the intriguing corridor behind the Pear a light rain began, but by the time we reached the base it had blown over and was sunny again. Then after our lunch the storm clouds were back. A crazy, but satifying day.