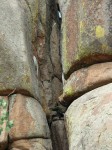 After a pleasant night of camping, we mosey over to the Nautilus formation near the entrance of Vedauwoo determined to ease back into some route climbing. But sometimes climbing and ease just aren't meant for the same sentence.
We were allowed a mellow start on the Practice Slab, 5.5. The first two of three hangers had been removed, but this didn't really bother me as the climbing was quite secure. We play climbing up and down this crystal-ridden face for a while, and I decide it would be fun to climb up to the top via Peton Perch, also 5.5.
Peton Perch is a 170-foot chimney. I knew there'd be some grovelling involved, but I wasn't expecting any serious challenge. I thought I even recalled soloing the route back in high school. To my dismay the grovelling starts to feel a little marginal. I wonder if I'm on the right route. I place some protection and move on. At one point I reach a position where I'm hanging from good but overhanging hands and need to swing into a somewhat desperate looking flare. I retreat two or three times, second guessing myself. I consider retreating, but finally buckle down and grunt through it, pumping as much adrenaline as any climb I've lead that pushed my limits. In hindsight I probably should have tried to stem through it like Ann did, but the exposure and holds coated in bird shit put me off. I wasn't done yet, either. Getting out of the chimney by a big chockstone at the top took some most undignified manuevering. I was happy to just have made it, but Ann had a ball following it on toprope.
The rappel off Peton Perch is a 60-foot free-hanging amusement ride. Totally fun.
After lunch I set my sights on something narrower. Captain Nemo, 5.8, is a pretty hand and finger crack. I recalled this being one of my few leads in high school. This time I expect a bit of a challenge, but nothing treacherous. Again it's harder than I expect, and again I start questioning myself. The protection looks good, though, so I decide to fight my way up it even if I have to dog. And that's exactly what I do. Once again I feel good just for making it with maximum effort, but can't help some depression at the realization that I may have climbed better in high school than I do now. Ann struggles on this one too, but also fights up it. If we don't finish the day feeling optimistic about our climbing, at least we have that full-body tiredness that we've missed for a while. And we're still smiling.