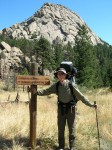 We felt we were long overdue for an overnight, and a climbing outing. The fact that we see the 700-foot granite face of Greyrock when we look out our window must have influenced both of us, because we both suggested it as a destination for the weekend at the same time.
We didn't really consider the heat. At 7000 feet it doesn't even get us up as high as Vedauwoo. Carrying all our camping and climbing gear up the mountain was HOT. We set up camp in a shady grove of Lodepole and spent some slothful time recovering. By 1 pm, when we finally hauled our gear up to the South Slabs, it was REALLY HOT. It seemed like when we lived in the Mojave and 115-degree temperatures were expected, we dealt with the heat much better. It didn't feel oppressive. Now it was beating us down.
I start up Fun Flake, 5.6, and manage to enjoy it without drowing in sweat. There's not much to the route, and halfway up the angle breaks to almost walking surface. Ann spends most her time on the route trying to get wedged stoppers out of Fun Flake while I bake on the belay ledge. As soon as we're untied we scramble as fast as our screaming toes will take us back to the shade at the base.
When I can breathe again I get on 2 Minds Meet, 5.7, which is a much more enjoyable climb. Still hot, and still low-angle at the top, but I could sense things getting better. Finally the air is cooling down, and there's even some shade creeping towards us. We continue up Slab Happy, 5.7, which totally lives up to its name. We're done about 6:30, which is just enough time to get back to camp, and for me head up to the lake on the summit for water.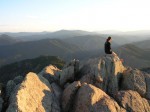 There are a few people on the Greyrock summit enjoying the evening light. The foothills bask in it. The unusual lake on the summit reflects. It's glorious. Back in our cozy campsite we cook up some of our still-tasty Sante Fe Pasta from last summer and settle into the pine needles for a night under the stars.
In the morning we head back up to the crag while it's still cool. I start up Jazzman, 5.10a. It's been awhile since I led a hard, thin climb, and I get a good strong visitation from Elvis. I make it through the crux after the first bolt, though, and up good face climbing past three more. This climb backs off at the top also, but only to 5.7 or so, and no more bolts. I'm not sure where the route is, so I climb about 25 feet of face and traverse over to a little seam to look for some pro. I wedge a dicey nut in rather than climb down to slightly wider section. Another 25 feet gets me to the belay ledge, relieved and happy. Ann follows with one fall, also happy to make it up. The sun is beating down already, but we're happy to end on a high note. It's a good enough buzz to carry us down the hot descent.