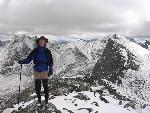 Sunrise Lake
4 mi
::
Sunny morning, cloudy afternoon
At last, dawn brings us a clear blue sky. We have a hearty breakfast and set off towards Dragon Head peak. By the time we reach the main western ridge there are big, dark clouds rolling by, but we persevere. There is fresh snow on the mountain that gets deeper as we climb. It makes the rock fields tricky. I'm ready for thunder to turn us around in our tracks at any time, but I hear none. It's a pleasant surprise when we find ourselves on the chilly, snow covered summit. The eastern cliffs plunge down as if the mountain were chopped off at this point by a giant cleaver. We stay at least a few feet from the edge, but we have to get at least that close to peer down at Lee Lake. Across the valley a glacial lake sits quietly at 11,600 feet, the highest I recall ever seeing. Our peak is not the highest in the area at 12,200 feet, but none are more than a few hundred feet higher. It's a spectacular place to be.
We decide to descend instead of attempting a traverse to 12,380-ft Pronghorn Peak. The weather seems too volatile for that. A cold wind has started up, making us glad to have a warm sweater and rain gear. The wind accompanies us all the way down, but never turns to rain. We have a celebratory dinner and good conversations back at camp.