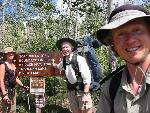 Scab Creek Trailhead
to
Little Divide Lake
5 mi
::
Sunny, warm
We had planned to pack up quick this morning, have breakfast at Jedediah's House of Sourdough, and drive to Boulder (WY) by noon to meet my dad. The speed we've become accustomed to in putting together a backpack trip, though, didn't come as easily as it once did. We sleep late, find our gear has been scattered, and our guest house needs some attention before we leave. Still, when my dad calls at 8 am we're at least out of bed. He's already in Pinedale, and proposes meeting for breakfast there. I agree, without consulting Ann, and the real scramble begins. Somehow we get on the road by 9.
After going over Hoback Pass we hit a Wyoming-style traffic jam. There is a cattle drive heading up the highway. The cattle are freaked out, weaving between cars, covering themselves and the road in messy manure.
We find my dad in the Pinedale mountaineering store at 10:15 am. My dad buys a light pair of boots for the trip. When the salesman sees the light trail shoes Ann and I are wearing, he says, "You'll be sorry…" I'm tempted to tell him how many miles I've hiked through the mountains in these shoes, but it doesn't seem worth it.
After breakfast we drive to the Scab Creek trailhead. As has been the case before, my dad's pack looks big and heavy. Somehow we ended up with different ideas about the length of the trip. Ann and I have 5 to 6 days worth of food, while my dad brought 7 to 9 days worth. Ann and I volunteer to carry all the cooking gear, but Dad decides to bring some extra fuel. I try not to discourage his choices, such as a large bottle of salsa, but they seem unimaginably heavy to me. Dad leaves a little food behind, but still starts out with a pack twice the size of mine.
We set off in beautiful weather. Dad and I joke that the mountains are simply luring us in with warmth and sunshine. "There's sure to be hell to pay," he laughs. I see that his big pack isn't really an issue, because there's no need to go fast or far on this trip. We go about five miles to Little Divide Lake and set up camp.