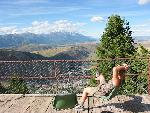 I've chosen a destination for our pack trip into the Wind River range next week. It's a large basin tucked away near the divide in the middle of the range. I've never been anywhere near it. Dragon Head Peak rises up over Lee Lake there in a set of cliffs that look steep on the topo map. I'm excited about it.
Considering the breakdown of Ann's hiking shoes, we think of trying the backpack trip with sandals for trail and boots for cross-country hiking. Ann's sandals are already pretty shabby, though, so we break down and go looking for new shoes for her.
We notice that trail shoes these days seem to be incredibly ugly across the board. Men's shoes come in 'bold' colors like electric blue and black, while the women's are pastels with a hundred shades of baby blue. The ugly factor combined with the fact that Ann doesn't really want new trail shoes makes for less than thrilling shopping. In the end she finds a pair of Solomons on sale that feel okay, and are mostly gray. She wears them out of the store, and we go straight up to the top of the Snow King ski area, a 1500-ft climb. They work well enough, she thinks. Her feet ache a little when we get back to the house. Mine do too, for that matter, so maybe it's normal.