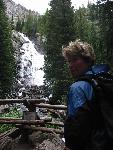 I know from other physical endeavors that when I stop working my body all day long I tend to fall into a catatonic state, oscillating between eating and sleeping. Once I've entered this state it becomes more and more difficult to escape it. The only way to remain semi-functional is to force myself to perform some form of exercise every day. You might think that since I'm in good shape from all my hiking that this would be easy, but it's not. My limbs feel like they're made of lead. The more effort I put into moving, the heavier they feel. Every other breath becomes a yawn.
Today we drive to Jenny Lake at the foot of the Grand Teton. It's cloudy again. The mountains are still invisible, except for a single spire on Mount Teewinot. The lake is an attraction in Grand Teton National Park, with pontoons ferrying people across the lake continuously for $7.50 a pop. The boat only saves two miles of walking, so a fair number of people brave the trail with us. It soon starts raining, and I'm surprised to see tourists dressed entirely in cotton clothing continue determinedly down the trail. I yawn and yawn while putting on my raingear.
Hidden Falls is the big attraction on the far side of the lake. We make the short climb to look at them, but we're really here for the exercise. There are berry bushes everywhere, and signs warning about bears. It would be interesting to see how all these people would react to a bear visit, but I wouldn't wish it on the bear.
There are far fewer people on the longer part of the loop around the lake. One family coming the other way announces proudly that they've come all the way from the visitor center. Only the brave and intrepid would choose this way around. I'm still yawning a bit, feeling better but not quite intrepid.
After a few more miles of rainy hiking, we finish the loop of about 8 miles. I feel better, more alert, but extremely stiff and inflexible. Stretching my seized-up muscles seems to take more effort than walking. I wonder what would happen to me if I didn't make myself walk and stretch. It feels like I would become a statue, a memorial that could be placed to forever mark my stopping point on the CDT.