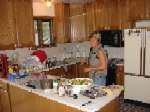 Lewis Lake, WY
to
Jackson Hole, WY
Again the rain continues through the night and into the morning. Someone nearby starts an engine and lets it idle. It's kind of noisy and smelly. When I get up I wander over to complain, but when I see what it is I change my mind. A family in jeans and a cheap tent have gotten soaked by the rain. They huddle in their van to get warm, steaming up the windows. I'm not cold, but I get into our car to escape the rain. I turn on the radio. Ann soon pokes her head out of the tent to yell at me – my radio is twice as loud as the idling van. Oops.
We pack everything up wet and drive to Jackson Hole. The Tetons are hidden by clouds, not a hint of mountain to be seen.
In Jackson we have to locate both post offices, the one that does not do general delivery of course is the more obvious, convenient location. Hikers who get dropped off downtown would almost need another ride to reach the other post office. We drive there and pick up a house key. The key is to Ann's uncle Jon's house, where we plan to live indoors for a while in true honeymoon luxury.
With this resumption of indoor life the reality that life on the trail has ended begins to sink in. Things like the number of dishes and surfaces that require cleaning after preparing a meal seem out of proportion and somewhat absurd. Things like a fridge that makes ice instead of consuming it, a coffee maker, a stereo, hot baths, and movies on a soft couch seem like the height of decadence. Sleeping indoors, even in the best bed, seems hot and stuffy. It's all confusing, but also pleasurable and restful.