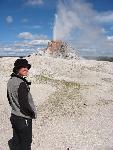 West Yellowstone, MT
to
Lewis Lake, WY
We enter Yellowstone, the first of all the national parks. From the monstrous library of literature available on the park, we have purchased one of the smallest and most recent books, Lost in my Own Backyard by Tim Cahill. It provides enough of an introduction to the park to make us appreciate some basic facts about it. Perhaps the most striking is that we are driving and walking around in the giant caldera of an active volcano. This volcano is unique, poorly understood, and could erupt again at any time, ending civilization as we know it. Neat.
We haven't been in the park five minutes when we pass a majestic bald eagle perched on its nest and a massive buffalo grazing by the road. Stopped cars jam the road completely at each such site. Tourists with cameras inevitably jump out of their cars, ignoring the warning pamphlets handed to everyone at the park entrance showing a buffalo goring a photographer. We have joined the throngs, a fact we try to embrace as we crawl along the park roads.
The section of park along the road from the west entrance to the south entrance keeps us busy and enthralled all day long. It's like we're driving and walking on a thin crust floating on a giant pot of boiling water. Steam shoots out of the ground everywhere, hissing, bubbling through mud, spraying streams straight up into the air, and collecting in boiling lakes. Of all the amazing spectacles, I think I'd choose the Fountain Paint Pot, Sapphire Pool, and White Dome Geyser on Firehole Lake Drive as my favorites. The White Dome Geyser seemed special because it erupted like a miniature volcano for us just as we arrived. Of course Old Faithful goes on the list almost by default – who would skip it?
Most of our walks are short outings on boardwalks, but by the late afternoon we've accumulated quite a few miles. I feel as tired as if I'd trekked 25 miles on the CDT. We cross the divide three times on the way to Lewis Lake Campground. There we have just enough time to make dinner before rainy weather returns, chasing us into the tent.