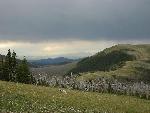 Welcome Pass
to
Lewis & Clark Pass
30 mi
::
1552 mi
::
Sunny, afternoon clouds
I wake up early, determined to finish the stretch along the Dearborn River as quickly as possible. It seems like I walk fast, but the landmarks go by slowly. By the time I reach what I believe to be my turn up Blacktail Creek, I've had breakfast already and figure I'd better eat lunch early while there's water around. After eating I find the turn leads to a horse camp. I hunt around, find what I think is the correct turn, and check it carefully with some compass readings. When I'm satisfied, I look up from my map and notice a sign that says "Blacktail Creek Trail" on a nearby tree.
Once I'm climbing hard I feel better, and it continues getting better after that. At last, the trail gets onto the divide for many miles with just a few small diversions. I can see all around me. The scale of the burned area sinks in now as I survey whole ridges covered with silvery snags, one peak after another. The sky is full of things to look at also, with storms rolling by, layers of clouds of all different colors interspersed with blue and gold. A bald eagle soars silently by below me at one point. I'm totally occupied watching the grand goings-on in the world. Now and then a pheasant breaks the silence, fluttering noisily away from the flowers by my feet. The surprise nearly stops my heart once or twice. I think the pheasants are more dangerous than bears.
In this setting I hardly notice the miles going by. Soon enough it's getting late and I'm 30 miles down the trail from Welcome Pass. I think I'll sleep well tonight.