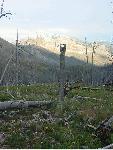 West Fork Sun River
to
Welcome Pass
24 mi
::
1522 mi
::
Foggy, sunny afternoon
The morning is foggy. It gives the river mysterious aire, and everything smells damp. Mushrooms are popping up all over the place.
By the time I reach Benchmark and find the car, the sky is clear. A camper tells me Ann is looking around for me. I make a cup of coffee and organize my maps while I wait for her to come back. It turns out she'd been at the ranger station. She saw the "AREA CLOSED" sign and was worried about me. That sign is alarming. It doesn't make it clear that the closed area does not include the trail. It says, "Entry into the closed area will result in a fine of up to $5,000, 6 months in jail, or both." It also makes it sound like hordes of grizzlies are feeding on the carcass, when it's really one black bear sow and two cubs.
Ann has made egg salad and cold vanilla pudding for me. She loves me.
We walk together to Straight Creek, where I start my next stretch.
I pass a bearded hiker with the same pack as me. Before he's gone I ask if he's a CDT hiker, and he stops, nodding. Fred is trying to make up time after an 8-mile side trip he took by turning the wrong way at Welcome Pass. He started at Lima 4 weeks ago, headed for Canada and then perhaps to Wyoming for a segment or two. He's seen a few bears, but only one cub he thought might be a grizzly.
A hiker carrying a huge pack stops to chat. He's hiking out after observing a spelunking party on the Green Fork, which I will pass on the west. This range apparently has some big cave systems. This one required both scuba and rock climbing gear to explore. He says the caves here are not well known.
I'm resigned to another long stint along lodgepole-enveloped rivers, but I soon enter new world. In 1988 fires burned over 250,000 acres here, and I have entered my first burned area. Everything opens up and I can see the surrounding peaks. There are scads of wildflowers and shrubs, with patches of young lodgepole and aspen about my height. The surprising thing is that nearly all the dead trees are still standing, covering the mountainsides. Everything is bathed in sun. I feel renewed, and make it to a nice open campsite on Welcome Pass with plenty of light left for writing.