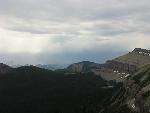 Grizzly Park
to
Spotted Bear River
24 mi
::
1474 mi
::
Cloudy, some sprinkles
We wake up to a clear sky, but a cloud rolls in and sprinkles on us during breakfast. I have coffee when I camp with Ann, but I don't try to make it on the trail otherwise. The cycles of caffeine deprivation and fulfillment make a cup of rich coffee so good that I'll daydream about it for a day or two afterward.
The cloud sticks around, making it nice and cool for hiking. I cross the divide at Sun River Pass, in thick forest this time. I'm itching to get out of the woods and up where I can see.
On Open Creek I meet a Forest Service trail crew on horseback.
The ranger asks about blowdowns and offers to answer any questions I may have. I learn that the Forest Service approves of hanging food at night, but also storing it in an attended campsite as I used to do. They haven't spotted any bears to report. The trails here have been better than many other wilderness I've explored, so I ask how they're funded. He replies that funding is "tricky" – there are usually no funds allocated in the federal budget, but they can get grants for trails. I'm curious where the grants come from, but I let them get back to work.
At last I get above treeline for lunch. I'm at the northern end of the Chinese Wall, a long band of cliffs along the divide. I should see some of the southern part tomorrow.
I go over Switchback Pass, which earns it's name with many switchbacks down to Pentagon Creek. There's somebody at the guard cabin where the creek meets Spotted Bear River, so I say hello. The guy is with a bear study group. They hike all over the wilderness setting up sites to collect bear hair. He says that using genetic analysis of the samples they hope to determine bear populations, which are currently unknown in "The Bob". So far they have only seen two black bears.
I continue up Spotted Bear River to a nice campsite. I'm getting better at hanging my food without making a mess of the cord.