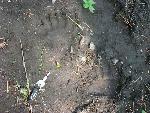 East Glacier
to
Marias Pass
15 mi
::
1406 mi
::
Sunny, warm
Having Ann to support me in the car has made hiking easier and more fun in many ways. Today we discuss a possibility I haven't capitalized on yet – hiking with just a day pack while Ann hauls my overnight gear in the car. The idea had occurred to me, but I've resisted it so far. It doesn't, however, violate my guiding principle, to walk a continuous path from border to border near the divide, and enjoy it as much as possible. Ann approves of the idea, as long as I take the first aid kit. I decide I'll try it today.
After a good restaurant breakfast and a quart of ice cream I'm ready. We go over our plan, and Ann drives off. It feels weird being left without all my stuff. I keep wondering if I'll need this or that.
Once I'm going it's great. The freedom of movement can't be beat. I don't get much scenery today, so I concentrate on moving. It feels good.
I see my first clear bear tracks in some mud on the trail. They're not huge, but still inspire renewed efforts at making noise. I even sing a little – that should keep 'em away if anything will.
I reach Marias Pass at 4:30 pm, having made 15 miles in 5 hours with a lunch stop. Soon Ann shows up, and we start planning for the huge Bob Marshall Wilderness section coming up next.
Ann, bookkeeper extraordinaire, gave us a budget boost by adding our emergency cash and my leftover birthday money to our general funds. We're still behind, but it seems more manageable now.