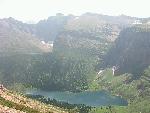 Red Eagle Lake
to
Morning Star Lake
14 mi
::
1367 mi
::
Sunny, warm
Sleeping until 6:30 feels like sleeping in. I have a leisurely breakfast followed by hot cocoa, and start up the trail around 8:30, feeling luxuriously lazy.
I still make it up Triple Divide Pass by noon. I have lunch there to maximize my time up high. The triple divide is point on a peak just to the west where the divides between the Pacific, Atlantic, and Hudson Bay meet. I try to imagine the landscape descending to the different bodies of water in each direction.
There are goats with kids laying around just below the pass. They aren't mountain goats, but they don't look domestic either. They are blamed for much of Glacier Park's giardia problem. Beyond them multiple hanging valleys shelter lakes that spill down in waterfalls at one end.
Headed down again, my mind drifts to various points in past. I think of problems I've worked on in school and during my career, and wonder what's in store. Before I know it I've arrived at my campsite, with the whole afternoon in front of me. I wash my suffering socks while a moose bull takes a bath across the lake. He shakes his antlers, drinks, and just stands around in the ice cold water.
A small guided group arrives. Cory, the guide, works at Big Mountain ski area in the winter and guides in the summer. She likes her life. In between seasons she has time for her own pack trips in places like Chile.
The question for tomorrow is where to camp after I meet Ann without spending a bundle. Cory and a passing ranger both thought the park campground at Two Medicine lake would be the best deal. I'll hike through there, so I can check it out.