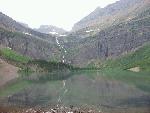 Many Glacier
to
Red Eagle Lake
30 mi
::
1353 mi
::
Cloudy
I'm underway at 6 am, the only person stirring in the giant campground. There is, however, a black bear snuffing around the quiet RVs. He looks at me for a second before shuffling off behind a bush.
I'm in the salad again this morning, and it is wet. My pants and shoes are soon just as wet as if I were wading in the lake. There are more amazing cliffs and waterfalls to gaze up at. This morning they disappear into white clouds at the top.
At Morning Eagle Waterfall I have breakfast. It's cold with no sun, but it keeps the bugs down.
I've gone over Piegan Pass before I start to see other hikers. As I approach Going to the Sun Road their numbers increase. I drop back below treeline to march through salad once again, but it's nice and dry on this side.
Going to the sun Road is about my halfway point for the day, so I eat lunch there. There are groups of kids marching by in lines, heading down the trail. They form part of a genuine crowd on the trail that peaks at St. Mary Falls. I walk amidst groups and families, the only one with a backpack. We pass some really pretty waterfalls, ending with Virginia Falls. After that the trail goes into salad again, and I walk along St. Mary Lake without seeing another soul. The sun comes out and the water laps lazily on the shore.
By the time I leave the lake and climb to Red Eagle creek I'm starting to feel tired. I have to go 3/4-mile downstream, away from my eventual destination, to reach a suspension bridge. It's always harder to walk when you think you're going 'the wrong way'. By the time I reach the bridge I'm beat. I stop for dinner. Just as I take my wet tent out to dry, the sun goes behind a cloud.
Dinner fixes me up. The tent dries anyway, and the prospect of another few miles seems okay.
I pull into Upper Red Eagle campground around 8 pm, in pretty good shape for a 30-mile day. I even have enough energy to chat with my campmates a bit before bed. When a very tired hiker wanders up his wife says, "Ask him how far he hiked today!" The man looks wearily at me and says, "Tell me, and I just might poke you with this walking stick, you healthy young brat!" We all laugh.