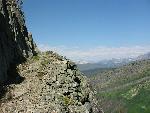 Fifty Mountain
to
Many Glacier
19 mi
::
1323 mi
::
Sunny, breezy
I make breakfast at the campground, and get on the trail around 8. It climbs to the divide, providing the best views yet of the array of icy peaks to the west. I wish I could name them, but they are just off all my maps.
I pass a few parties headed north. At Ahern Creek, where the trail crosses a steep snowfield and cliff, some park service employees are shoveling a path through the drift. I gather that two of them are students and the other a part-time biologist. For them this is a summer job that provides matchless views.
I see some signs for a chalet, and decide maybe I'll stop there for lunch and check it out. Sure enough, there are rooms for rent, tourists milling about, and a small hiker store. I nearly buy some frozen treats, but decide I'll have plenty of opportunity for that tonight.
At Swiftcurrent Pass I cross the divide again, back to the Hudson Bay side. I'd like to climb up to the lookout on Swiftcurrent Peak, but I'd have to haul the pack up it and I don't feel quite that energetic. I can see that to climb peaks in this park comfortably you would plan a day for it, so you can store your food at a campground while you're away.
The other side of the pass is amazing. A glacier sitting on top of a huge cliff sends water sailing down in freefall to a lush valley, where it makes crystal blue lakes.
My campground is between some of the lower lakes. It's huge, with RV's and SUV's everywhere. It takes me twenty minutes to hike to the host, get directions, and hike to my site. Fortunately, it is an easy walk from the store and restaurant.
I set up my tent, eat a good but too-small pizza, buy more food and ice cream at the store, and continue to munch at my site. My neighbor emerges sleepily from his tent to tell me he's just returned from Seattle. He was hiking here with a girl he met until she panicked because she had to catch a plane in Seattle the next day. He pulled an allnighter to get her there in her rental car. They got to the airport in time, but the girl had lost her wallet and couldn't leave. He got on a train back to Montana, couldn't sleep on the train, and had just woken from his first good sleep. I tell him I hope he has some good memories for his trouble.
I eat some frozen yogurt and call Ann. She tells me we're $500 over our budget of $230 per week. I don't think this will sink us, but we're going to be squeezed for a while. I just hope we can cut our spending through the rest of Montana and still enjoy ourselves.
I get ready to hit the sack early. Tomorrow is my 30-mile day.
Unable to sleep, I get up and talk with Jack and Doug, some late arrivals at the site. They're up from Berkeley, and we talk about Sierra climbing while they make their dinner. They say they were the recipients of great generosity from strangers at lunch, and they pass it on by sharing their beer, wine, pasta, and hot dogs with me. Now I should sleep well!