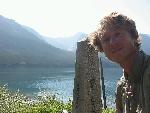 Waterton Townsite
to
Fifty Mountain
19 mi
::
1304 mi
::
Sunny, warm
I pack for a five day trip through Glacier National Park. It's too problematic and expensive to meet Ann along the way. We're both unhappy about it.
After a good breakfast I get on the trail. It travels for several miles along the beautifully clear Waterton Lake, with sculpted peaks soaring up on all sides. There are just a few markers at the border, then more lakeshore. The border is a different world from our Mexican border beginning.
I check back in to the US at the Goat Haunt Ranger station, and eat lunch at the pavillion there. I figure, correctly, that the mosquitos are going to get bad up the trail a ways.
I've never walked through such thick vegetation. There is a trail, but leaves and flowers hang over it waist- and shoulder-high. It's hot and a thousand leafy smells comingle in the humid air. I feel like I'm swimming in a giant green salad. I struggle to move fast enough to keep the mosquitos from biting.
It takes a while, but finally I begin to climb out of the Waterton Valley to the divide. The mosquitos thin out, and the views improve. These mountains really look like they were made to astound us. Some of the pointy peaks still have snow sticking to one side like frosting. All of them have many layers peeling away to make dramatic shapes.
I reach Fifty Mountain, my reserved camp, around 5:30 pm. A few other campers explain the layout so I can find a good site. There's lots of time to hang out, talk, make dinner, and read. I find I'm the elder of the group. The youngest are two guys from Minnesota spent a night between two buildings in Kalispell to save money on their way here. It's fun to see people just getting started exploring the world.