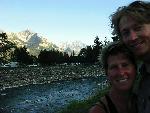 Lewis & Clark NF
to
Waterton Townsite, Canada
0 mi
::
1285 mi
::
Sunny, warm
The tent is soaked with dew this morning, which sets us looking for a sunny place to make breakfast. We find it at a rest stop near Great Falls, but of course forget to dry the tent.
I get a sandwich for lunch in Shelby, which I recognize from my 1999 bike tour. I came through at the exact same time of year, possibly even to the day. It's strange to mingle these two extremely different trips in my head.
I keep stopping and spending too much money on ice cream and treats.
At last we cross the border into Canada without incident. We pay eight bucks to get into Waterton Park, where we pick up my backcountry permit for Glacier National Park. I have to say, the only reason I get this permit is that Ann got on the phone two days ago and did it for me. I never would have been on the ball like that, and she got the very last backcountry campsites available. The catch is that I have to follow the itinerary strictly, camping in reserved sites with bearproof food storage, and one day I'll have to make nearly 30 miles. We have to pay $4 per night, plus a $20 reservation fee. We worry about how much it will cost for Ann to camp with the car. The national park is hitting our budget hard. Regardless, we're thankful to get a walk-in site for $16 in Waterton tonight. It's right at the trailhead, and we'll have access to showers, laundry, and ice cream tonight.