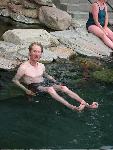 Pipeline Trailhead
to
Battle Pass
17 mi
::
1285 mi
::
Warm, partly cloudy
The divide here continues to be really pleasant ridge walking among sparse trees and boulders. I enter the Huston Park Wilderness, where the trail tread ends and posts and cairns begin. It's a well-marked trail, but retains the feel of a cross-country hike.
A pair of southbound hikers, John and Tony, pass me on their way from Rawlins to Chama. They ask about cheap hotels in Steamboat, but I'm not any help.
Later I meet Larry (The Salesman) on his way from Pinedale to Silverthorne. He's in high spirits after crossing the Great Basin. I answer lots of very specific questions about the route ahead of him, which he seems to know much better than I ever know what's ahead of me. He's carrying a very light-looking pack, and seems to have his act together.
I'm running late for my noon rendevous with Ann, so I put the steam on. Coming down to Long Park I see Ann's tracks in some mud, so I know she's headed back to the car already. I'm not surprised, but I feel sorry I missed her. I walk fast to Battle Pass, arriving a few minutes after her.
This is as far as I will walk headed north. We'll drive from here to Waterton, Canada, where I will start walking south back to Battle Pass. There's more than half the trail still waiting for me in Montana, Idaho, and Wyoming. This flip-flop will take me through the mountains of Glacier National Park in the summer, and leave the Red Desert for the fall. Hopefully I won't have to be too concerned with early snowfall in the mountains.
We head to the Hobo Pool in Saratoga, where I soak my tired body in the mineral hot springs. After soup and sandwiches for dinner we drive north to BLM land in Shirley Basin, where we camp for free in the wide prarie with scattered grazing cattle.