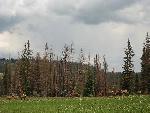 South Fork Soda Creek
to
Slavonia
22 mi
::
1268 mi
::
Warm, heavy afternoon rain
The mosquitos are waiting for me in the morning. I get going quickly, hoping I can find places with fewer mosquitos to eat my meals today.
I stop at a snowfield for water and notice there aren't many bugs. The sun is behind a cloud and a breeze keeps it too chilly for them. I eat here, thinking of how I once sought out warm, sheltered places for meals.
The divide traverses high green meadows, dotted with ponds. I'm passing a stand of Douglas Fir when I hear a thundering sound emanating from the woods. Thirty yards ahead, a stream of elk emerge from the woods and cross my path. I wait for ten minutes while several hundred animals make their way from the Atlantic to the Pacific side of the divide.
I have lunch atop Lost Ranger peak, where there is enough wind to discourage the bugs. This will be my last significant peak in Colorado. There is no trail over the serrated crags around Mount Zirkel to the north. From here the divide remains mostly below timber line into Wyoming.
The afternoon is spent descending towards my next rendevous with Ann. It's warm and I consider a swim in picturesque Three Island Lake, but don't want to brave the mosquitos. Shortly Ann comes up the trail and wants to see the lake, so I go back and take my swim after all. The bugs aren't so bad, and the cold, still water is rejuvenating. I even sit for a while afterward and eat the sandwich Ann brought me. Then the bugs drive us on.
We get a heavy, warm, wet rain on our descent into the lush Elk River valley. It feels almost tropical, with leavy lupine and primrose growing waist high by the trail.
We find a pullout by the road outside a 'camping restricted' area, and settle in for the evening with a nice view of peaks above and river below.