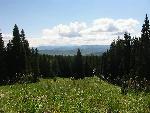 Rabbit Ears Pass
to
South Fork Soda Creek
18 mi
::
1246 mi
::
Partly cloudy
Dad takes us to a good breakfast in Steamboat. Afterward I say farewell to Mom, who thinks she'll head back East tomorrow. A few last bites of birthday cake and I throw the pack in Dad's truck, since he and Sarah are headed back over Rabbit Ears Pass to go home.
The old highway is right across from the spot where Ann picked me up. It's just hard to see. This is nice, I can get off US40 right away. Dad and Sarah wave as I start up the old road.
I notice the flowers right away, they're thick and colorful. There are meadowy lakes here and there, and an occasional glimpse of some peaks northward.
I eat the last of my birthday pizza at a trailhead. It turns out to be a good choice of location, because after this the bugs get bad. There are a lot of small ponds in this area that breed endless mosquitos. Any time I stop I'm instantly swarmed, but I don't notice them much if I keep moving.
At Buffalo Pass I stop for dinner, but the mosquitos are so thick I decide to look for a better spot after filtering water. I huff up the trail until I reach an open meadow where a breeze is blowing. With all my raingear on and occansional wind relief I manage to cook and eat dinner without having my veins sucked dry.
Before long I spot a good tent site. Eager to escape the bugs in my shelter, I pitch the tent and race through my pre-tent-entry routine.
Relief from the clouds of mosquitos is sweet. Sometimes I think mosquitos must have been the overall worst cause of suffering on pre-tent voyages such as Lewis & Clark's. I'm thankful to not be cowering under a deer hide right now.