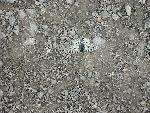 Willow Creek Pass
to
FS104
23 mi
::
1203 mi
::
::
Sunny, afternoon rain storms
Ann gets me back to the pass at 8 am, after coffee. There is no obvious trail headed west, so I bushwhack up the ridge until I find one. It leads into a little web of trails and old roads. I try to stay on the ridge and end up bushwhacking again, although the route seems to have been flagged at some point. At treeline I begin the steep climb to the summit of Parkview Peak. There's a little hut up here among the orange and yellow rocks, along with a population of buzzing bees. I can't figure out what brings the bees to a mountaintop, but they seem to be gathered around the hut.
The next miles of roads and ridges are sparsely marked with cairns. I follow them lazily, doing more cross-country when I lose track of the route. There are clouds of butterflies and moths fluttering around me much of the time. One kind of moth takes off in clusters from tree branches when I pass, as if the branch was waiting to explode like fireworks.
The afternoon thunderclouds roll in, and start dumping rain just after I come over Sheep Mountain. I take cover in some trees and make dinner, hoping the lightning will pass. Somehow in the storm I've gotten completely turned around, and looking back at Sheep Mountain I think it's the next peak along the divide. I'm lucky that I make myself take a compass reading before starting again, or I would have missed a turn. Rain makes it easier to get disoriented, and harder to check the map, a combination which nearly got me this time.
I descend from the divide to Arapahoe Creek, well timed to replenish my water. Water is a little more scarce here where the divide is lower.
After the creek it's back up to the divide, where a recognizable road meanders along the rolling ridge. Right around dark it stops raining just long enough for me to get a cozy camp set up beneath some spruce trees.