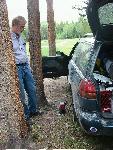 Illinois River Headwaters
to
Willow Creek Pass
11 mi
::
1180 mi
::
::
Sunny, warm, afternoon and evening rain storms
I bushwhack to the trail in the morning with no trouble. I have breakfast early as I've been doing to make sure I have some calories to burn for the day.
I make one wrong turn but recover quickly. Otherwise I navigate a web of old jeep roads and ATV trails successfully. It's one of those days, though, where the trail I'm on never seems to be going quite the direction I expect. I'm doubly happy when I see Ann coming up the trail because I know for sure I'm in the right place. We drink some water and head for Willow Creek Pass.
It's sunny and hot on the pass, so Ann offers to take me to her nice shady campsite a few miles away. Seems like a good idea to me. We sail down the pass, turn on some forest roads, and we're there.
When she starts unloading the car, Ann hears a hissing noise. She quickly checks the fuel bottles. Not that, thankfully, but it's coming from the left rear tire. Quickly Ann pulls the car into the shade and sets about changing the tire while I stuff my face with lunch. It's not that I'm unwilling to help, eating just needs to happen first. Ann has even made me cold chocolate pudding, and I can't even think about the tire until it's gone.
Meanwhile, Ann discovers that while we have a jack and a spare tire, there's no nut wrench in our kit. It's the spare kit that came with the car, and I've never checked it. We both feel ashamed at our ill-preparedness.
We have no phone signal, so we decide to try to hitchike to somewhere we can at least make a call. We walk out to the highway, then start walking towards Rand, 9 miles north.
Some logging trucks go by. We don't mess with them. A pickup doesn't stop for us. The next SUV hits the brakes and we get in.
David from Austin, Texas quickly assesses our situation and takes us to his nearby ranch. There he throws a lug wrench in the back and takes us in to meet his wife and twin 5-year-old boys, George and James. The boys come back to the car with us, chattering and curious about everything. David always responds to them but talks fairly constantly himself in a coherent but disparate stream of information about the area, politics, his family, and our situation. This continues right through the job of changing the tire, which he takes charge of with help from us and the boys. When the job is done we exchange cards, shake hands, and away he goes.
Ann and I make a slow 30-mile trip to Walden driving on the donut spare. We're delayed by construction, and arrive at Jack's Tire Shop 20 minutes before closing. Chris does the job for us though, and answers all our questions patiently. Our tires are nearly worn out – we'll need another set to finish the trip which will punch us in the budget again. We buy a lug wrench so at least we'll be able to change a tire ourselves now. We get some ice and ice cream at Corkle's, then head back to the campsite. On the way in we frighten a mamma moose and her calf, who plunge into a pond and swim away. We spend the rest of the day in camp. It rains on us while we make dinner, and into the night.