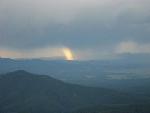 Shadow Mountain Dam
to
Illinois River Headwaters
21 mi
::
1169 mi
::
::
Sunny, warm, afternoon thunder clouds
I wake from a fairly good sleep. It's the first time I've tried sleeping under the stars with a mosquito net to protect my face. It works, but requires some management when turning over during the night.
I walk the length of Shadow Mountain Reservoir to the sound of highway 34 on the other side. Some kind of spider flourishes here that loves to spin webs across the trail. I'm continually brushing them off my face.
Near Grand Lake Ann appears on the trail. Seeing her approach is always such a joy. She's jazzed up this morning after a peaceful night, and we buzz into town.
I choose a little bakery and coffeeshop for my calorie festival. A good latte, black bean huevos, some of Ann's breakfast wrap, and a giant pecan sticky bun give me a good start.
We walk around town a bit. It's a wealthy tourist town. I'm not sure if it's standard treatment or because we're not wealthy tourists, but people aren't too friendly. Usually the residents in places we pass through are welcoming, but maybe here they're just eager to be rid of all us.
I have a pint of Ben & Jerry's and a cream soda while Ann swims in the lake. Then it's time to walk again.
There are lots of CDT markers around, so I follow them. When I seem to be a headed in a strange direction, a girl who rescues lost tourists shows me her map. It seems they've marked a loop through the park as the CDT. That seems strange, since my official guidebook says the park service refused to allow the CDT to actually follow the divide. It looks like they've made it into a tour of their expensive campgrounds instead.
I ignore the markers and head up Tonahutu Creek. A train of horses bearing tourists passes, and the leader thanks me for stepping off the trail.
As I'm navigating through the Sun Valley development a truck pulls up beside me. "You through-hiking?" asks the driver. I'm unused to being able to explain myself so easily. "Yup," I say. He tells me that the next stretch is boring jeep roads, and I can have a ride if I want. Not surprised when I say no, he says they might see me up there and takes off. I feel better now, having had a friendly encounter with a local.
The jeep roads are dull, but go through pretty lodgepole stands with green leafy undergrowth. Storm clouds start to rumble up on the ridge I'm headed for, but I steam ahead while I'm in the trees still.
I keep going until the last tree cover on the ridge runs out. There I stop and make dinner, keeping my eye on the storm. While I eat the rumbles cease and the sky lightens. I decide to go ahead.
My patience is richly rewarded. From the top of Cascade Peak the wide sky puts on a show for me. Dark clouds blot out some parts of the earth, columns of light beam down on others. To the north I can see the Snowy Range through illuminated mist, mountains where my mother walked with me before I was born. I feel very light and alive walking up here.
I come to a point where I can see the trail winding slowly down a bowl from Bowen Pass. I don't see much good camping potential there. I do see a snowfield disappearing down a gulch to the same canyon below me. I decide to investigate, and find my longest glissade opportunity so far. It's steep, so I slide slowly and deliberately, but still manage to lose about 700 feet of elevation with very little effort. As I bonus I take a long drink of fresh snowmelt and find a good campsite among giant old pines at the bottom.