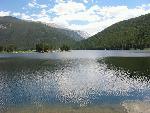 Devil's Thumb Creek
to
Shadow Mountain Lake
25 mi
::
1148 mi
::
::
Sunny, warm
It's a nice, dry morning. When I start walking through the woods, they seem especially tranquil. The sun isn't up yet, so the air is cool and still with an occasional hint of cinnamon and mint. It puts me in a calm, open frame of mind.
I need the calm mental space for the abstract task of crossing 12 miles of forest and meadow. There aren't a lot of landmarks to look for, so it's difficult to maintain a sense a progress. I use my breakfast stop to break it up a bit.
By lunch I've made the long, hot descent to Monarch Lake. I've been dreaming of jumping in the water, so as soon as I see a spot I clamber down and get undressed. There are a few kayakers around, so I leave my underwear on. I wade in, pause a moment, and splash! I dive in. The water is clear, refreshing, and warm enough to do a little swimming around. My first dip of the trip is marvelous.
From here the trail traverses around the Arapaho and Granby reservoirs. It's an irritating trail with lots of fruitless ups and downs, but supplies a couple of good views. I'm glad when it returns to the reservoir shoreline.
After dinner I hike up the Colorado River towards Shadow Mountain Reservoir. The trail doesn't seem to match the map exactly, and I end up right by the dam. I find a secluded place to camp, hoping I won't be disturbed.