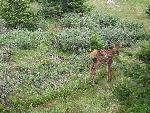 South Fork Williams Fork River
to
Berthoud Pass
23 mi
::
1095 mi
::
::
Cloudy morning, sunny afternoon
I wake up to a dark, cloudy sky. I don't feel like walking. I know Ann is expecting me this afternoon, though, so I get started.
I climb to a treeless ridge in sporadic rain. The sky begins to lighten a little as I work up to it. This country is rugged. The ridge makes some unexpected turns, then forms a dramatic headwall ending the canyon I climbed out of. On the other side is a green bowl, where coyotes are howling a strange, melodic song. At first I mistake their voices for human.
Signs of humanity appear again as I approach the defunct Bobtail Mine. There I turn onto a road and climb under some power lines to Jones Pass. There is some more enjoyable ridge walking from there, until the trail skips around the side of Vasquez Peak. Below lies the destination of the power lines – the giant Henderson Molybdenum Mine. It emits a constant hum from the central cement tower. This is punctuated by occasional gunfire, as though there's also a firing range down there.
I'm happy to escape back up to the divide at Stanley Peak. Here I begin my descent to US40 at Berthoud Pass. It's been longer than I expected, and with my lack of motivation this morning I'm a couple of hours late.
I feel better now, so I zip down to the pass where Ann is waiting in the Subaru. She's been unable to escape all the weekend Denver traffic, and is sick of listening to the highway. She makes me dinner there at the pass anyway. We decide to see if we can find a decent campsite in the trees off the road a ways. After some wandering around we settle on a spot that's still pretty close to the road, but sheltered by thick forest at least. We have a glass of wine together there before bed.