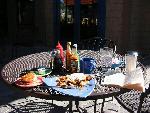 Gutter Creek
to
Silverthorne
25 mi
::
1062 mi
::
::
Sunny
An encounter with an animal drives me from my tent during night. I hear some sniffing around outside my tent, but at first ignore it as harmless. Then it starts brushing up against the tent. I rouse myself to look, and see the shape of a giant bear. Immediately I grab my poles and start whacking them together, but it doesn't move. It doesn't move because it's a tree and a stump that together make a bear shape. I laugh at myself and settle back into bed. Just as I drift off, the animal brushes up against the tent again. This time I grab my headlamp and see a bunny run off. When I'm falling asleep again, it returns and does the same thing. And again. Finally I throw my pad outside and roll out of the tent next to my trekking poles, intending to whack it if it returns. This time it stays away and I get some sleep.
In the morning I'm excited to hit Copper Mountain for breakfast. I eat my oatmeal before hitting the trail, figuring it will help me from going too crazy at a restaurant.
It doesn't work. When I reach the Columbine Cafe after four miles or so, it has so many tasty-looking specials I can't decide. Then I see the Combination Platter which allows you to choose any three. I eagerly consume eggs Benedict on a croissant with turkey, bacon, and tomato, a green chile potato skillet with melted cheese, and four small buttermilk pancakes. All of it is top notch.
On the way to the trailhead there's a gas station. I use the opportunity to bolster my calorie jamboree further with a chocolate chip muffin and a box of Milk Duds.
Back on the trail, I can feel the extra fuel powering me up Unava Pass. I pass a number of day hikers on the way. There are some great views of Mount of the Holy Cross to the west, and lovely Lost Lake in a deep bowl beneath the pass. Unava Peak stands guard to the northwest.
From Unava Pass I plunge down to a fork of Tenmile Creek. The calorie buzz wears off, but the Milk Duds are keeping me going. I start climbing up from there to Eccles Pass. This climb, the second big one of the day, feels a little tougher, but I reach the pass in good spirits. Here some of the many jagged spires of the Gore Range dominate the north horizon. From here it is about nine miles to Silverthorne. I feel like a can make it.
The trail down is tough. I lose it once, and it is steep and rocky when I find it again. I've been wearing my shoes loose because they're more comfortable that way, but now I can feel blisters on both heels and toes. It makes me even more determined to get to Silverthorne so I can rest my feet for a day. I find I have a phone signal, so I leave messages for Ann and my Dad that I'll be there around 7 pm tonight.
When I stop for dinner it rains lightly on me, and mosquitos swarm around me. I have to cover every bit of exposed skin with citronella to get through dinner.
I find my feet will barely carry me when I start up again. Fortunately after a while it seems I've pounded them into submission and can walk more normally. Eventually the trail gets easier too, but there's a lot of it. The blisters get painful again. I think about stopping to tape them, but the mosquitos cover me the instant I slow down. Then one foot cramps. Getting down to Silverthorne is some of the toughest walking of the trip for me, but I get there. I hobble into Wendy's, order a frosty, then sit on the lawn out front with my shoes off. I feel wrecked. What a relief to see Ann pull up. Saved.
I down a sandwich at Quizno's then head for my Dad's place for some much needed rest.