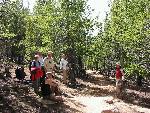 Twin Lakes
to
Bear Lake Trailhead
23 mi
::
1011 mi
::
46,650
::
Afternoon and evening thunder showers
This morning is the first morning since we've been in Colorado that it felt warm enough to change clothes without hurrying. Ann puts on her summer dress. It's glorious.
After a good breakfast Ann takes me back into Twin Lakes for another cinnamon roll. Then we say goodbye again. She'll head for Denver today to try to register the car. I'm going to try to get to Silverthorne by Wednesday, then take a rest day with Ann at my Dad's place.
I start off on the wrong road, which I had very confidently told Ann was the right one. Oh well, it doesn't take long to figure it out and go up to the correct turn. A quiet road, then trail takes me to the southern trailhead for Mt. Elbert, the highest mountain in the state. There are a number of peak baggers around, but most of them are probably still up on the slopes. The trail winds pleasantly through the trees with an occasional glimpse up toward the summit. It then passes Mt. Massive in a similar manner. Usually I'd be itching to climb up to a summit, especially Massive which I haven't climbed before, but I feel content to walk today.
Afternoon clouds form, and I eat my lunch under the shelter of a tree in a light rain.
I pass a CDT Alliance volunteer trail crew. The CDT is so different here from New Mexico – not only are there trails, there are trail volunteers! I thank them for the good tread and tell them a little about my walk.
I'm also noticing the contrast between this trail and the PCT in California. I've been crossing quite a few sizable creeks here because the trail is far below the divide, but all of them have had some form of bridge. On the PCT we had to ford many much larger creeks, some several times. This is one of many reasons why I'm able to walk more miles in a day on this trip.
The rain showers become more persistent as the day goes on. I recall the last time this happened it rained like mad all night long, so when I see a tent site under the shelter of a large tree I take it. The tree provides such good protection that I can leave the tent door open and watch the rain fall in the adjacent meadow, snug tight in my sleeping bag.