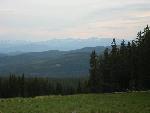 Los Creek
to
Baldy Lake Trail
24 mi
::
888 mi
::
48,300 steps
::
Afternoon clouds
When I wake up everything is sopping wet with dew. My tent drips with condensation. I decide that frost and ice may be preferable to this dampness that feels just as cold. To my relief the sun comes out of the morning clouds and begins to warm things up.
I'm back to playing the water source game, but now without a filter. There are more water sources to choose from than in New Mexico, but I must be much pickier. My first stop is a fenced spring, which are usually good, but this one is so wet that water from the cow pasture above is pouring into it. I poke around and find another unfenced spring higher up which I take water from, but don't drink yet.
I cross highway 114 amidst heavy construction equipment. What a different world to enter momentarily.
At lunch I find a spring I like, and dump the water from this morning. I have to tolerate a little dirt in the water, but it's worth it for water coming straight out of the ground in a cleaner place.
As the trail climbs to the divide on forest roads and good trail, I find myself starting to like this pleasant walking through the woods, with occasional glimpses of the La Garita mountains to the southwest.
On one of the divide's small summits I'm finally able to get a phone signal. I call Ann. It's so good just to talk to her. Since I'm making good time we arrange to meet at Monarch Pass on Wednesday instead of Marshall. That will give me some more hiking to do in the meantime. I want so much to see her, waiting in one place would be too hard.
The trail continues to roll along a mostly forested divide. I'm enjoying it more than I thought I would.