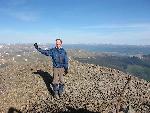 Spring Creek
to
Los Creek
26 mi
::
864 mi
::
53,900 steps
::
Afternoon storms
It's cold out and the light is dim because the mountain blocks the sun, but I'm up at 5 am. I have to move constantly to stay warm. It feels better once I start the climb. I wave to Jim's horses far below as I traverse above them.
Like any big mountain, every time I think I'm near the summit I come over the shoulder to find more mountain above me. Eventually it does run out, and I'm standing on the summit with only a few clouds in the sky. San Luis Peak is barely a fourteener at 14,014 feet, but it's a feast for a CDT hiker. You can see everything in the the San Juans, and more than you can comprehend to the north and east. So many fabulous mountains. After a while a couple of peak baggers show up and take my picture. I also notice that another CDT hiker we met in Pie Town, Trippin Ant, was here a week ago.
To top off a glorious morning I find several hundred feet of of fresh snowfield to glissade on down to a lovely breakfast spot.
The trail now leaves the mountains and traverses the much lower Cochetopa Hills. I figure I'll make up some miles, and take off at a good clip.
The thunder storms start again around 10 am, and continue through the afternoon. I no longer care much since I'm headed for lower country. I slog through snow, then rain.
After it has lightened up I meet Eric, another CT hiker. He also tells me of two CDT hikers less than a day ahead of me.
I fly along on easy trails, then Forest Service roads. Water will become an issue again now. I've packed enough down from the mountain to get me to a stock tank and well. I'm tired and sore when I get there, but pleased to find it flowing. I haul some water up a hill to a nice campsite where I treat myself to hot cocoa before bed.