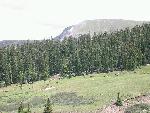 Beartown Road
to
Lost Trail Road
24 mi
::
803 mi
::
::
Sunny, light afternoon snow
I sleep until the sun hits me, then step out into a bright, clear day. I decide to try an alternate route that spends a little more time on the divide. It takes up past an old mine on Kite Lake where the coyotes are howling this morning to wide, green, rolling section of the divide. I enjoy a few miles on the divide without much steep terrain.
I pass a man with two boys, two dogs, and two llamas camped next to the trail. I'm all ready to say hello, but the man keeps his back turned to me. I'm sure he knows I'm there as all the animals are aware of me, so I figure he wants to be left alone.
The trail soon disappears in a meadow, so I take my own course for awhile. I climb and wind through a lot complicated drainages, probably not taking the best course but not really caring. A ways from Stony Pass I see truck crawling up the steep dirt road, but it's gone when I arrive. The road signals the fact that I am leaving the Weminuche Wilderness, which has only become more dear to me with this tour of it. I'm also near the headwaters of the Rio Grande, who's huge watershed makes the distinctive westward loop in the divide. I'll soon be headed east again.
I take another alternate route that climbs over a ridge of Canby Mountain. The trail is faint but it's fun going – I even manage to work in a little glissade. At this point the clouds are getting dark, so I hurry along the divide to a point where the trail descends into West Pole Creek Canyon. There isn't any lightning yet, so I sit down to have lunch. Just then a cold wind comes up, so I decide to descend a ways before eating. When I get settled in my more sheltered spot, the sun comes out and bakes me. Such is life in the mountains.
The trail gradually descends this branch of Pole Creek, then goes up the East Fork. The trail is good and the valley is green and pretty. Again I run into a herd of elk, maybe a hundred this time with lots of little elklings. As they file away into the trees I notice a large, graceful bird soaring with a white tail. I can't quite see it's head, and I can't remember if Bald Eagles have white tails, but that's what it makes me think of. I watch it until it disappears into the trees as well.
I reach the pass above the East Fork by dinner time. Just as I'm finishing my dessert it starts to snow, and I hurry to pack up and head down Lost Trail Creek.
I walk through half an hour of snowstorm, then the sun comes out again. Before 8 pm I reach a nice campsite on a little saddle. I can look down Lost Trail Creek from here and I think of Ann hiking there a few days ago. It makes her feel near.
There's time to make camp leisurely and watch the quarter moon come out. I can hardly believe it when I tally my miles for the day – I thought I was just out enjoying myself! Of course I was.