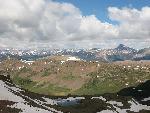 Squaw Pass
to
Weminuche Pass
12 mi
::
758 mi
::
::
Cloudy morning, rainy afternoon
I have all day to walk 12 miles today, so I sleep in. I'd have been better off getting up early – a waxing wind makes it colder by the hour.
Just after breakfast I encounter the first person I've met on the trail. David introduces himself and asks about my hike. I'm so surprised to be talking to someone, I don't do a very good job of finding out what he's up to, just that he may go to Squaw Lake today. About halfway up the climb above the spot we met I see him start out with a group of four other people. I give them a wave before I disappear over the pass.
The trail hugs the divide and provides glorious views for the next several miles. When it finally drops into a little green valley I notice a herd of maybe forty elk grazing on the other side. I sit down about a hundred yards from them and eat lunch while they decide what to do about me. Eventually they filter away up the valley in a long broken line.
I climb out of that valley and begin the long descent to Weminuche Pass. Ann isn't supposed to be there until tomorrow, but I keep hoping she's come in early. I spend my time trying not to get too excited.
Weminuche Pass is wide and meadowy, and the trails fade out and differ from the map. I'm hunting around for a missing trail when some people camped nearby whistle and yell, "You looking for your wife?" They point up a hill. I start towards it and Ann emerges from the trees. I feel my smile stretching my face. Apologizing for the disgusting smell of the socks drying on my pack, I hug my wife.
There are dark, thundering clouds above so I try get my camp set up quickly. Ann has brought me hardboiled eggs and other treats. There's nothing in the world I'd rather do than while away a rainy afternoon in the tent with her. It's a bliss attack.