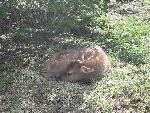 Palomar Mountain
to
Squaw Pass
19 mi
::
746 mi
::
42,150 steps
::
Stormy
Today is the summer solstice, so I should have plenty of daylight. Tomorrow the slow squeeze on hiking time will begin.
At last, I remembered last night to spread out my shoes so they wouldn't be so hard to put on frozen. That gives me a good start. The north slope I was worried about this morning turn out to be fairly gentle, with steps from a previous hiker easing the way as well. I move along happily, but the steep, north-facing Knife Edge ahead keeps coming to mind.
When I stop for breakfast I stumble across a small fawn curled up under a tree. It doesn't seem frightened of me, which makes me think maybe it's sick. I get fairly close to take a picture, then leave it alone. I have urge to help it, but know I can't.
The trail soon climbs to the divide and goes right along it for several miles. There are lots of short, steep climbs and some snow drifts, but the views are unbeatable. I see storm clouds hitting distant peaks. Soon my turn comes, and I eat lunch in a light snow.
After lunch I reach the north face of the Knife Edge, a long, serrated peak. As I feared it's steep and snow covered, but there's a trail that descends and goes around on easier terrain. I'm about to head there, but first I sample the snow. It's in perfect condition, soft enough to kick good steps but firm enough to get solid belays with the ice axe. I decide it would be safe to cross with the axe, and good practice.
It's not long before I wish I'd taken the low trail – not due to fear but tedium. It's slow, hard work setting the axe, kicking two steps, and repeating this ad infinitum. I have one moment of excitement when my feet slide out, but the axe is solid and I don't go anywhere.
At one point I think I smell McDonald's french fries. It's strange, I don't think I'm craving them. Then a gust of wind reveals that the smell was just the edge of the odor of my socks, which are hanging to dry on my pack. I'm even more ready for the traverse to end.
When at last Knife Edge is behind me, a fierce new storm breaks loose. At first I bundle up and keep hiking, but flashes of lightning convince me to wait awhile under a bush. The wind and snow swirl and whip through the valley in a dazzling array of effects. I feel priveledged to be witness to such an event. When the wind has eased and the thunder grown distant, I move on.
I have one more steep slop to traverse, but it's a south face and free of snow. The valleys are endlessly deep and green, with wisps of remnant storm clouds blowing through them.
I reach Squaw Pass with time to make camp leisurely. Tomorrow looks like an easy day to Weminuche Pass, where I may have to wait for a day to rendevous with Ann.