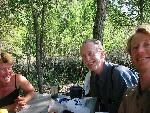 Pagosa Springs
0 mi
::
693 mi
::
Sunny, hot
It's Sunday, of course, so we can't pick up our package. Because we're concerned about budgeting for our new plans, we don't do our usual town-feast-splurge either. We eat our last pack breakfast, thankful that it doesn't taste like citronella.
The great news of the day is that my Dad, newly retired, agrees to come pick us up from Denver. I can't wait to see him.
We allow ourselves one buffet meal out at the European Cafe, and get more than our money's worth. We buy some used paperbacks and hang out in camp until my Dad shows up. It's so great to see him. He looks like he's handling retirement well so far. He springs for pizza, beer, and key-lime pie, which sends us all off into a good night's sleep.