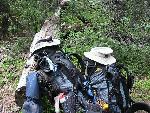 Adams Fork Headwater
to
Pagosa Springs
8 mi
::
693 mi
::
Sunny, warm
Thankfully the night passes without too much wind, and we stay reasonably warm. The only problem is that the space blanket bag Ann used got her bag wet with condensation. We'll have to remember to dry it today or she'll freeze tonight.
We start up the pass with optimism, but before long Ann bogs down. She feels weak, and her stomach is cramping and queasy. She shows me where the worst pain is, in her lower right abdomen. I try to remember which side the appendix is on, and pray she's not suffering from appendicitis up here. I carry my pack to the top then return for hers. She makes it up, rests a bit, then feels ready to go on.
I can't see any trail with all the snow, so I start along my best guess of the route. I'm relieved to find some cairns after a while, but the snowfield keeps getting steeper. Ann feels better, but not fully recovered. When it gets too steep to continue without crampons, we stop for breakfast.
I think I see two possible routes down, but I can't tell which is better. Unfortunately I choose the steeper one. It gets as steep as I will tackle, even with crampons. Ann makes a monumental effort to keep her cool on the scary terrain. At one point she feels unable to switchback safely, so we sidestep down. In time she conquers her fear and makes it to easier ground. "It isn't like rock climbing," she says, "where after I do something that scares me I want to do it again. I don't want to do that again." I can't say I do either, though I know I'll probably encounter more slopes like this.
We're soon able to remove our crampons and continue through drifts. We find a pretty nice trail marked with blazes. At lunch the snow has receded enough for Ann to change back into her running shoes. We follow good tread down many switchbacks on a steep slope. Glimpses of deeply carved, tunnel-like waterfalls intrigue us when we approach Quartz Creek. We finally cross it on a last snow bridge, then find ourselves in a land of greenery, dry trail, warm air, and mosquitos. Here we start to realize that this may be the last of our trail hiking together like this. Our relief to be out of the snow now turns to sentimental, wistful thought. We try to appreciate every last step.
Too soon we hear voices, then reach a trailhead. ATVs pass as we eat dinner by the road. It seems like the adventure is over, when suddenly the road disappears into the East Fork San Juan River. We either have to ford it or wait for a big vehicle to beg passage from. I make a few exploratory steps into the swift water, always retreating. It feels a bit too fast and deep. At last Ann points out a more shallow area, and I make it across. Very slowly and deliberately, she follows. We did not expect to finish the day soaking wet, but here we are.
Just as we're looking for a campsite, a truck comes along. Just for kicks Ann sticks out her thumb, and they stop. Next thing we know we're in the back, staring out at the canyon as the sun sets. Then we're flying south on the highway, then climbing out at the San Juan Motel and Campground in Pagosa Springs. It's lucky for us, because we never remembered to dry out Ann's sleeping bag. They have a laundry room here, so we toss it in the dryer before bed.