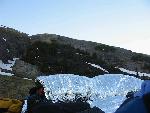 Middle Fork Conejos River
to
Adams Fork Headwater
8 mi
::
685 mi
::
Sunny, gusty, cool
The morning spares us some of the usual sufferings. It's a little warmer than usual (but still cold enough to freeze my boots). Our morning trail is on a southern slope, which eases our snow difficulties. There's a stiff wind by breakfast, but we find a good sunny, sheltered spot. After that we go back to steep snow slogging to reach the North Fork Conejos River canyon. This canyon also offers some south-facing slopes, and it starts to feel like we're making progress.
We've continued to discuss how to end or change our journey so Ann won't have to suffer through too much more of this snow. We know we need to get out of the high country before we run out of food. The forest roads descending from Elwood Pass in about 17 miles seem like our best best bet. After that Ann thinks she might enjoy supporting me from our car while I continue walking. We're not sure we can afford it, but I like this idea too.
After climbing out of the North Fork canyon we hit a big snowfield. I kick steps for what seems like an eternity. It's steep in places, and Ann has to stay composed and focused to avoid a slip in her flimsy shoes. We trudge this way for an hour and a half to make less than a mile.
The trail then switches onto a much steeper slope, and I can only guess where it goes under the snow. I scout down the ridge a bit without finding anything promising. Meanwhile Ann is struggling against her natural panic at the steepness of the slope confronting us. I lead across a little ways to some exposed ground, where we decide she should put her boots back on.
In a remarkable display of self-awareness and control Ann tells me that she's freaking out and may not be thinking rationally, but needs to know why I didn't check up the ridge further for the trail. I tell her she's perfectly rational, and that's not a bad idea. We climb back up the ridge and find a little piece of trail before the snow takes over again.
It's still a steep descent, but doable. Ann gets the hang of plunging her boot heels through the crust of the snowfield with each downward step. Near the bottom I can't resist breaking into a glissade. Ann even does a little seated glissade. The
other side of the Adam's Fork canyon is partly dry, so we cross the river on a snow bridge and make dinner there.
Looking at the maps in our guidebook segment I find a trail leading down to the Quartz Creek drainage, which eventually flows into the San Juan River at US160. The trail leaves from the pass at the head of the canyon we're in. I have only the beginning of it on my topo map, but it looks like it should be easy to follow after that. It may start with a steep snowfield, though. Given our dwindling food supply, we decide to go for it.
We are just below the pass when the sun goes down. There is no place anywhere for our tent. We find a bare patch of lumpy grass, and each settle into a spot on our space blankets. We put on every stitch of clothing we have in preparation for the nightly freeze. Ann's space blanket is a bag, and she gets inside. Thus ensconced, we stare up at the blue sky and talk about nothing while it darkens.