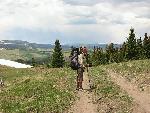 Placer Creek
to
Rio San Antonio
14 mi
::
605 mi
::
Sunny, warm, afternoon clouds
Placer Creek is truly rocky, but has banks with a flat spot high up. We see the remains of several old cabins, and long piles of rocks.
When the canyon opens up we see a couple sitting by their truck and tent. Joe and Dorothy invite us to have a cup of their coffee. They are hobbyist prospectors. Joe tells us the cabins were from old prospectors, and the piles of rocks supported their sluice boxes. He shows us gold pan with Chinese ripples, developed by Chinese laborers and far more effective than smooth pans.
When we're packing up to leave, Joe offers us water. Meanwhile I've taken my warm hat off, going through my packing routine. He looks at me and stops mid-sentence, "Boy, you need to put your hat back on!" My hair is standing straight up. It's a classic moment. With my sun hat safely on, I accept a few liters of water from Joe.
We take a wrong turn, even after checking the GPS. We realize it right away, the close contour lines have just deceived us. The actual terrain doesn't look nearly as dramatic as the map. We're back on track quickly this time.
We cross NM64, walking along it for maybe a quarter mile. In that time a truck stops and offers us a ride. I hope it's that easy when we need one!
The terrain is getting generally higher. We go cross-country around a rocky peak. Things are looking much more characteristic of the Rockies now, with granite knobs poking up through the grass at high points. The snowclad peaks of the San Juans peek at us occasionally to the north.
Our route touches the fence along the Tierra Amarillo Land Grant. This is basically a giant private ranch to us, and the reason for most of our wandering miles. We know it's been the subject of bitter controversy over the decades. More than one person has warned us to stay away from it. Soon our trail does just that, but an hour later we're back to the fence. We follow it over hilly, lumpy terrain until it changes direction and we begin descending to the Rio San Antonio.
The terrain we're descending is more complicated than I realized at first, and I go down too fast. This leads us into a series of gullies that all go away from the one we want. We stop for dinner and I realize what's going on, and make a plan to get into the right drainage. After eating we climb one more ridge, descend steeply on game trails, and appear to pop out at the creek we want.
We both feel energized by dinner and our success. We race happily down the 'creek', looking for the river. Ann even remarks that it's a big creek, but we still go half a mile before I figure out that it is the river, and we're going the wrong way. There's no time to do anything about it but hang a Uey and find a place to camp. I have to force myself to stop, I'm so wound up over it.