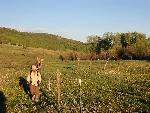 Fifteen Springs
to
Placer Creek
14 mi
::
591 mi
::
Sunny, warm
We feel like we're getting the hang of this section. This morning we even do a voluntary bushwhack to save a couple of miles, which comes off without a hitch. Then we encounter our next sort of obstacle – the private ranch.
We hit the fence after crossing the Rio Vallecito. We duck through a Forest Service fence, then walk along the Vallecito Ranch fence. There is a little trail worn in places, but mostly it's like restricted cross-country. We hit a road on the other side, then hit the T-Bone Ranch. There's a better trail along this fence, but it's longer and the Rio Vallecito sparkles tantalizingly next to a road on the other side. It's tiring.
At long last the ranch ends and we get access to the river. We camp on Placer Creek after following the river through a neat granite-cropped gap.