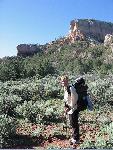 Ojitos Canyon
to
NM84
13 mi
::
545 mi
::
Sunny, windy, warm
We look forward to meeting up with Peter Gould from the moment we start today. Ann had made only quick arrangements to camp with him and his son Jesse on the Rio Chama. We have no phone signal, so we just hope to see them.
We spend the morning descending a pleasant trail along Ojitos Creek.
Ann seems puzzled when I keep taking pictures of the tri-colored sandstone cliffs on the canyon walls. They all start orange on the bottom, then fade to white, then yellow. Finally she asks if I've been here before, and is surprised when I say no. I don't know why – we've both spent years in New Mexico and nearly everything we see is new to us. It's easy to get to know the places you visit better than the places you live. It's a joy to rediscover the state together.
There are many cars about when we reach the Rio Chama, probably due to Memorial Day. Ann had visions of relaxing by the river and waiting for Peter, but agrees to walk the road instead while we look for him.
Several friendly people stop to talk to us – a man on his way to a retreat at the Trappist monastery up the river, a guy finishing a weekend of taking high school kids boating, and a few Forest Service rangers.
We reach NM84 at 5 pm without seeing Peter and Jesse. On the road we get just enough cellphone signal to reach them and find out they're almost here. Twenty minutes later we're piling into Peter's already stuffed Jeep and heading for the campground.
Peter serves us a hiker's feast: roasted chicked, spicy beans, tortillas, microbrew from 2nd Street Brewery in Sante Fe, fruit salad made on the spot with whipped cream, and hot cocoa with real milk. He won't even let us wash a dish. We go to bed stuffed, a nearly full moon rising over the river.