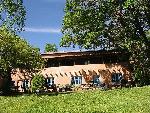 Cuba
to
Circle A Ranch Hostel
6 mi
::
499 mi
::
Sunny, warm
The morning is a race to checkout time at 11 am. We hit the Cuban Cafe for breakfast, then I go to the Post Office while Ann starts the laundry. We sort our boxes in the laundromat. We got an extra solar panel from Aurora Solar, which should help us stay charged up. A surprise comes from our friends Clare and Dennis in Ridgecrest – double chocolate cookies! We'll be thanking them for a day or two if they last that long.
I head to the library for some internet time while Ann finishes the laundry and gets groceries. The setup at the library is nice but very slow, and I spend a lot of time downloading and printing a blurry map.
It's after 10:30 when I leave, rushing back to our room. I see Anita staring into space on the way, then Daryl runs up to me. He looks bad, can't speak, and points to his ears like he's deaf. He wants something, but I'm afraid he's beyond my help. He waves sadly as I go.
Ann has been nervous waiting for me at the room, and is glad to see me. She was about to start stuffing my things into garbage bags to get them out of the room. I rush in, change clothes, pack up, and get out at 10:58.
We start walking north through town. There are more people on the street today. A few ask where we're headed, and shake their heads in disbelief when we say Canada. Ann wants pizza but decides against it. We fill our fuel bottle at the gas station, then sit at the Frosty Freeze eating strange creamless ice cream. The lady working there, Roqueria, gives french fries for free and asks us to send her a postcard from wherever we stop.
Finally we leave town and start up Los Pinyos road. It's different from what we're used to. There is a lot of green grass and trees, and water flowing in an irrigation ditch by the road. The further we go, the more lush and green it is. There are signs for the Circle A Ranch Hostel all along the road.
A guy in an old truck pulls over to talk to us. He works for the Forest Service in the area. He says we'll encounter a lot of blow-downs and snow five feet deep in the trees ahead.
By the time we reach the turnoff to the hostel it's so pretty I'm tempted to go check it out, but it looks like a two-mile round trip, so we start climbing the hill on a forest road. We soon stop feeling tired and unequal to the 2,000-ft climb in front of us. Still curious about the hostel, we decide to turn around and maybe stay a night there.
It's a heavenly place. A big adobe ranch house is surrounded by green fields and forests of oak, aspen, ponderosa, and pinyon. The largest documented pinyon pine in the region, and possibly anywhere, is on the property. The is food left over from a group that just left and plenty of quiet, comfortable places to sit. We spend a very restful afternoon and evening here. Both of us love the place.