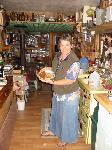 Co. Rd. 603
to
Pie Town
8 mi
::
303 mi
::
Sunny, cool, windy
We awake from a windy but warm night. We're soon on the road, and we see the first red roof of Pie Town before we've stopped for breakfast. It's strange wandering into town on empty dirt roads. We pass a Seventh Day Adventist Church, a community center, a Mormon Church, and a Baptist Church. It's not clear where US60 is, but we wander straight there to the post office, park, and campground. We're hungry, but we also want to make sure our supplies made it, so we go to the post office. The woman there gives us a whole array of parcels, plus the CDT log book she keeps, and points us towards the Daily Pie Cafe. There we scarf down a big lunch and pie while opening our mail. A new solar panel, new books, and a surprise gift of CDT bandanas from Linda "Gottago" Jeffers are examples of our booty. Thanks to everyone who sent stuff! On our way back past the PO, a couple invite us to drop by their place later for coffee.
Plans are discussed while setting up camp in the free Pie Town campground. Ann needs some time off to rest her feet, which means we'll need food. The little store, the Pie-O-Neer, is closed for remodeling. While Ann rests I return to the PO to ask where I might get supplies. "Nowhere here," is the short answer. She does suggest I talk to Nita Larronde, Prarie's mom, and gives me directions to her house.
I report the news to Ann, then set out to find Nita. On the way I meet Carol, who's heard of me already from Pops, the old guy in the truck yesterday, and Randy and Denise, the couple who invited us for coffee. She tells me to come by her place if we need some groceries. She seems to know we do. I thank her, and walk until I see the distinctive gate, right on the CDT route, strewn with old toasters. Nita's place. I knock on the door. Nita answers, looks me up and down, and says, "A hiker! I love it! Want to come in?" I smell cedar burning in her old stove and feel right at home. She quickly gets the facts of our situation down and invites me to bring Ann back for a shower and foot soak.
This time Ann is relieved and a little amazed to hear the news. We walk to Nita's and are treated to hot showers, laundry, foot soak, warm coconut pie, drinks, music, flipflops for Ann, fuel for our stove, and good conversation. By the time we leave we feel remade, ready for a snack and bed.