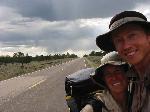 Elk Wallow Ridge
to
FS218
13 mi
::
259 mi
::
Sunny, warm, light afternoon showers
In the morning I discover part of our problem – I had entered a GPS reference point incorrectly. We find our correct position on a ridge near the divide. We bushwhack towards the intersection we're looking for, crossing more unmapped roads. When we find a road goind close to the right direction, we follow it. We get to the intersection OK, but take the wrong road away from it. We go nearly a mile before we discover this. After backtracking to the intersection we find ourselves climbing steeply on blazed trailless trail again.
Wagon Tongue Mountain takes us all morning to go over. We reach Damian Spring, the place we had high hopes of reaching yesterday, at noon. The spring looks dry, and we need water. Our book portrayed it as a good spring. I follow a pipe a quarter mile up the drainage, and find a shallow pool above the main spring which has only dry pipes emerging from it. I manage to get the water we need, with patience.
It's a hot, dusty road to NM12. Just before we get there we see a windmill turning. We head for it, but when we arrive the wind stops. We wait, but no wind. Just as we're leaving it cranks up again, and we get a bonus liter of fresh well water! It's yummy. We sympathize with the cattle that have gathered below the structure with the same hopes for refreshment, but will have to have to wait much longer for the tank to overflow.
Shortly after we cross NM12 we have dinner and it rains a little. We walk a bit more in the calm afterward, then settle in for a night's rest under an Alligator Juniper.