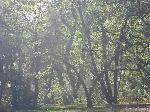 Gila Cliff Dwellings
to
The Meadows
13 mi
::
187 mi
::
Sunny, warm to clouds and humid
We bid a fond farewell to Arnold and Marlice around 7 am. Our bodies are feeling pretty good. At our high point I turn on the phone – no service.
Little Bear Canyon eventually becomes narrow with steep rock walls and a trickle of water, then brings us to the Middle Fork Gila where we have breakfast.
At Jordan hot spring we're greeted by a lively fox-like dog name Georgia and her two owners in the pool. We get in too. It's big and clean but not too hot. Nonetheless we linger there for a while after the others have left.
There are lots of crossings of the Middle Fork, but they're easy. Rock walls shoot up from the canyon floor, sometimes three or four hundred feet. The rock is volcanic, but I don't know what kind. It's porous, hosts quite a bit of moss and lichen, and often rises in columns. Many of the columns stand by themselves as tall, toothlike spires.
The river is full of big tadpoles and frogs. We hear them diving from the banks as we walk by.
The packs are heavy with 7 days of food, and we tire out a little faster from the weight. We have our dinner early, and shortly after decide to camp here in The Meadows, where there plenty of flat grassy spots. We get our first few mosquito bites before we retire to the tent.